LIFE 101: Spring in London Plot Synopsis


Seven mismatched university students from the U.S.A. arrive in Stansted Airport to begin a semester abroad studying Dramatic Literature in a class entitled LIFE 101: Spring in London. Michelle, "the sorority girl" adores being adored by men. Tim, a button-down type, with an odd obsession with recording every experience on a videocam, chases a perfect 4.0 grade average. Constance a second-generation hippy with New Age attitudes, seeks to find an identity. Slash, a guitar strumming neo-slacker, doesn't seem to want anything, Josh, a jock on scholarship, dreams of playing Pro ball and catching an "easy A". Two aspiring playwrights - Emily, who claims to be clinging to temporary amnesia, and the award-winning James, who simply wants to finally grow up, believes he's found the answer to the perfect life in a practical five-year plan, which inexplicitly doesn't include playwriting, round out the class. Each has his or her dreams and secrets, but face this adventure with hopes that "Today is the Day" that will change their lives forever.

When the students finally meet the legendary, and intimidating, Professor Ryan, they quickly learn that sometimes "Things Change." It seems that the class description didn't exactly cover the types of lessons Ryan is determined to teach them. Thus begins an arduous and unorthodox course of study which will force each student to face his or her own personal demons, and to discover that sometimes growing up means getting what you need, rather than what you want.


| | |
| --- | --- |
| It's not long before everything seems to turn upside down. Constance has an unwise liaison with a French Director. Tim begins suspecting that a future in the family business might be a fate worse than death. Michelle isn't getting much satisfaction out of her "femme fatale" role. Josh helplessly watches as all his dreams for a better life for him and his families threaten to go up in smoke. The enigmatic Slash pursues incredibly inventive ways to avoid any sort of real work and spends far too much time in secret meetings with Professor Ryan. And Emily and James find themselves entangled in a relationship that is destined to go nowhere because the paths they've chosen are at odds. The fact that Professor Ryan seems determined to encourage Emily's dreams while at the same time taking down James a peg or two at every opportunity further burdens their relationship. Still - although the Professor's attitude rankles James, he finds in Emily the woman of his dreams. Unfortunately, Emily is bent on finding herself and no longer believes that love conquers all. | |

The group begins to fall apart as the hardships of facing life's challenges plague them. It seems that "Things Ain't as Simple as they Seem." As each discovers who and what the others' really are, each is forced to face personal revelations. Plus, something mysterious is going on with the Professor. He obviously has some mysterious agenda – and they are part of it.

Through laughter and tears, anger and celebration, along with some elbow bending at various pubs, Josh, Tim, Michelle, Slash, Constance, and especially James and Emily will find that LIFE 101: Spring in London offers the chance of a personal journey far more dramatic than any of their assigned dramatic readings.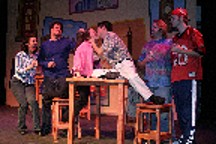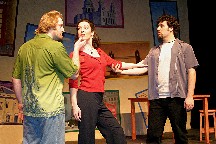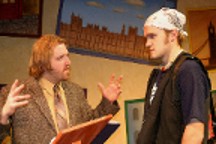 Characters



James:
A senior, majoring in Theatre. Things have always come easily to James. He's good-looking, smart, a natural leader and even has a proven talent as an emerging playwright, but this "golden boy" believes the time has come for more serious and practical pursuits.


Emily:
A senior, majoring in English. She's been the good daughter, friend, and student all her life and she knows that's not enough. She needs to fly free now – and she wants a successful career as a playwright. Playing it safe is no longer an option and she has no time for love.


"Slash:"
English Lit. Major. We don't know a lot about Slash – except that he sleeps a lot, plays a guitar, has secret chats with Professor Ryan and constantly knows about things you'd never expect him to know about.


Michelle:
A senior, majoring in English and Business: She's cute, she's a tease, and she is the archetypal sorority chick with a wicked tongue. She looks rich and spoiled and carefree. But looks can be deceiving.


Tim:
A Junior, majoring in Economics. He's a button-down kind of guy, who's proud of his perfect G.P.A., and very protective of his critical faculties. Some might call him a bit of a nerd. A nerd with an obsession for committing all his experiences to videotape.


Constance:
A Senior, majoring in Theatre. This second generation hippy has an armory of new age tools, from tarot cards to pendulums. She's a Southern gal with an urge to act, a big heart, and absolutely no clue of who Constance Willowflower really is.


Josh:
A Junior, majoring in English. He's the big guy on campus and on the basketball court. He's on scholarship and looking to play pro ball. For this jock, basketball is the way to put his humble beginnings behind him and give his family the life he believes they deserve.


Professor Ryan:
He's a legendary teacher, an anglophile, and an eccentric with a secret. This spring, Ryan is determined to throw the rulebook out and give seven students the opportunity to experience a new kind of education.